Introduction
The traditional Marathi bride's wedding look is trendy, and the classic bride looks like life and Maharashtrian brides. You will only hear about their emphasizing features, beautiful smiles, vibrant grace, and how splendidly they dress in their bridal ensemble. Yes, Maharashtrian brides are the epitome of vivacity and also beauty. The quintessence of her bridal attire like Nauvari saree, Nath, mundavalya, crescent bindi and green crystal bangles further elevate her look. Furthermore, the wedding dress exhibits a radiance filled with vivid colours and richly patterned edges.
Contemporary Maharashtrian Bridal Look – Traditional Marathi Bride's Wedding
Electric blue saree, chic hairstyle, offbeat jewelry – this Maharashtrian bride inspires all modern brides looking to walk down the aisle in a trendsetting way. Her thick nose and the floral accessory on her bun raise the bar even higher for all Maharashtrian brides.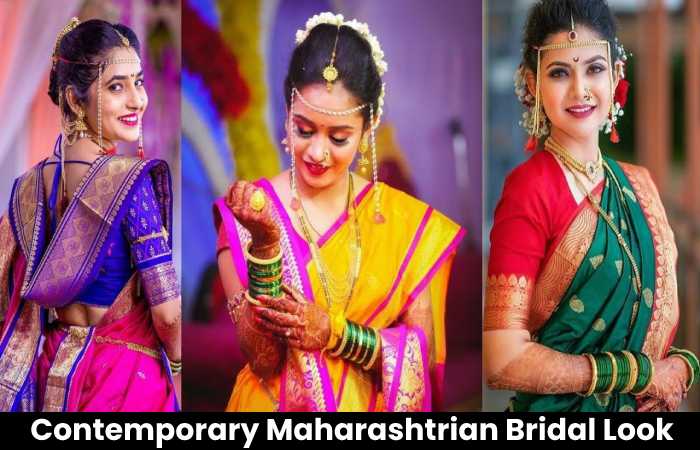 Modern Maharashtrian Brides in Nauvari Saree Look
This whole look is a fresh take on Maharashtrian bridal goals. These brides have dressed in nine yards nauvari saree. Forks. Here is a glimpse of the royal and unique look of the Maharashtrian bride's nauvari saree. The first bride is also adorning oxidized jewelry instead of a traditional pair. Traditional Maharashtrian Bride Look
The reception look at Maharashtrian Weddings differs slightly from the usual bridal attire. Here, this bride is dressed in six yards of purple instead of red or any other traditional color to give her a post-wedding function look.
Twinning Marathi Look – Traditional Marathi Bride's Wedding
Your mother is always close to your heart! Therefore, decorating yourself with the same theme or color as her will give you a memory for a lifetime. So, watch this mother-daughter duo for some serious twinning goals.
Marathi Bride in Golden Hues
This bride is dress in a golden look as her saree is similar in color to Putli haar. The Putli Haar is a piece of Maharashtrian bridal jewelry made from small coins woven closely together. Each of these coins has been carved with motifs of Goddess Lakshmi or Goddess Sita to represent wealth and fortune. Maharashtra Bridal LooksMaharashtrian bridal looks have been unfailingly bewitching us with their quintessential traditional elements, like any other conventional Sikh, Bengali, Muslim, and also South Indian bride. Dressed in traditional heirloom nauvari saree with statement Nath, Mundalvaya, green bangles and a crescent-shaped bindi, Maharashtrian brides carry that perfect Marathi classic look with utmost elegance and charm.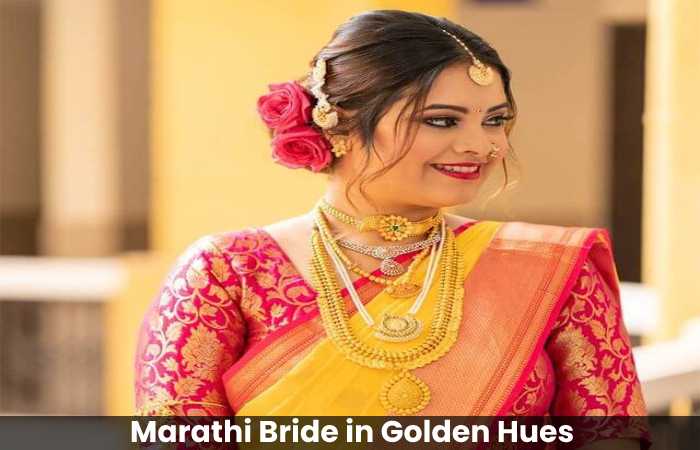 So, each culture has its sweet ways, from how the wedding takes place to the different rituals. But the beauty lies in every culture's other unique bridal looks; one such look is the Marathi bridal look! The Maharashtrian bride has a fantastic set of details that every bridal look possesses
Conclusion
When you think of a Traditional Marathi Bride's Wedding Look, the first thing that pops into your head is their saree draping. So with this, their colourful combination of saree and lehenga designs is so aesthetic and pleasing to the eyes. Most people associate Marathi dressing style with Lavni dancers' outfits.
READ MORE:-Men's Accessories – Accessories That Every Man Should Have Wardrobe
Related posts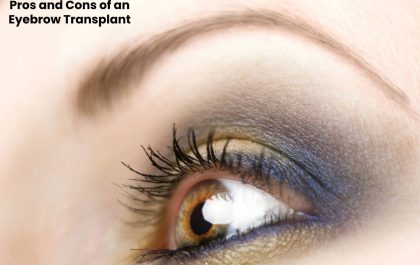 Pros and Cons of an Eyebrow Transplant – 2023
Pros and Cons of an Eyebrow Transplant – Eyebrow transplantation is a stable beauty method that removes excess hair from…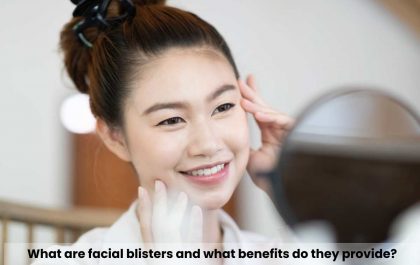 What are facial blisters and benefits? – 2023
Introduction What are facial blisters and what benefits do they provide? – Facial ampoules have become one of the most popular cosmetic…