Traditional bridal makeup is not a one-size-fits-all event; different cultures might call for different looks depending on the wedding style. However, the bride is the center of attention in every culture, and the sole purpose of a traditional bridal makeup look is to make you appear unique and authentic.
Since pastels and greens make up the majority of the traditional bridal makeup for the nikah.
This is the ideal occasion to highlight the eyes with a lovely smokey shadow and finish the look with a bright, cheery lip. The freedom to have the dupatta pinned over open, flowing locks is another characteristic of Muslim brides. It sets them apart from conventional Indian brides, who must wear a bun or some other type of updo. This, too, adds to the impression of airiness and fuss-free beauty.
Christian
An uncluttered face with a strong shape looks best against the background of a monochromatic white gown. brides indulge their whims and go all out with a dramatic liner cutting across the crease of the eye, making the eyes the focal point of the look. A dewy finish and a flash of color on the lips, preferably matte, create an instantly stylish look.
South Indian
South Indian traditional bridal makeup gives us another reason to appreciate it because of its additional charm and simplicity.
just like we do with south Indian cuisine. The critical components of a typical south Indian makeup style are baggy garlands of jasmines plated with intricate braids, fresh and bright-hued skills, and heavy gold jewelry.
but if you want to increase the various facets of this charming beauty, attempt bronzed perfection.
 Kerala Traditional Bridal Makeup
The bride from Kerala looks beautiful in her traditional attire, which includes a white sari with a stunning gold Zari border. Kerala brides love this vivid orange saree with its stunning golden Zari.
A bindi on your face will add some glitter to your bridal look because it will seem so tidy and understated and you can style your hair with white jasmine flowers.
Punjabi Traditional Bridal Makeup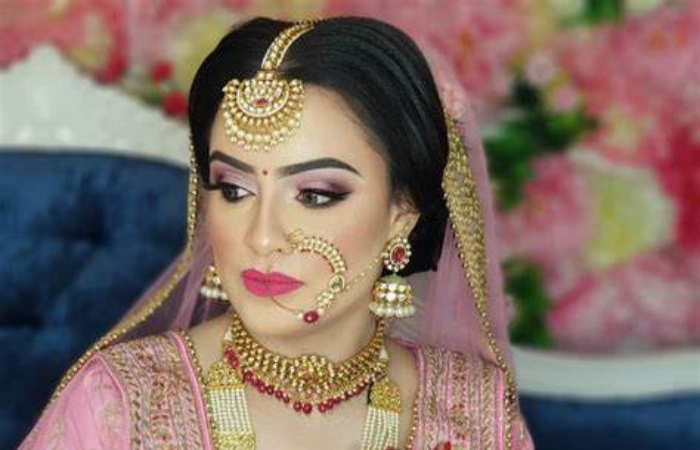 The characteristics of a Punjabi bride are boisterousness, loudness, and humor! These Punjabi ladies are wearing brilliant red-orange, Fuschia, dark crimson, velvety green, and mustard, among other hues, which is the traditional color for brides in this region.
Telugu Traditional Bridal Makeup
When these queens tie the knot wearing vivid saris and striking maang-bindis, the stars align! The Telugu traditional bridal makeup style undoubtedly lives up to the appeal of the lovely, straightforward, and traditional Telugu bride.
As the forehead accentuates with an elaborate maang-tika that integrates into the braided hair, eye makeup is crucial in Telugu bridal makeup.
The ombre effect on eyeshadow is a contemporary style well-liked among Telugu brides, and we are catching on!
Sindhi
Simply put, Sindhi brides are all about making a statement with cosmetics on their wedding day. Put it down to their inherent flamboyance, if you must. They don't mind adding a touch of drama to their appearance and are quite tolerant of glitter, whether it's used as metallic eyeshadow or a sparkly highlighter to draw attention to their cheekbones. However, when it comes to the lips, they are once more like lighter shades to harmonize the entire appearance.
North Indian Traditional Bridal Makeup
Go big or get out. The North Indian team, which is maybe more experimental than the others, is constantly trying to change and integrate heritage with contemporary. The bridal style featured here is heavily influenced by metallics and shimmer, with a sparkling highlight and contour to ace side-profile photos. While the bride is supposed to steal the show.
it's important to establish a balance so that she doesn't look like a glitter explosion overtook the beauty kit. Instead of using significant bits of glitter, use finer pigments and metallic shadow sparingly on the eye socket to reflect light and avoid going overboard.
Bengali Traditional Bridal Makeup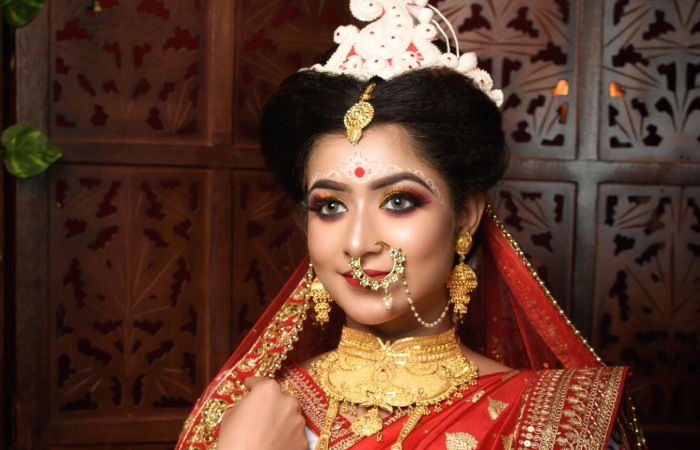 White and red, the classic wedding colors, provide a harmonious balance in the bridal wear without letting one color overpower the other. The mukut's similar white undertones allow for a bright red lip, whether glossy or matte, without causing color fatigue. Bengali ladies are renowned for having stunning doe eyes, which look their best when emphasized with kohl, liner, and lots of mascara.
Tamil Traditional Bridal Makeup
A bride wearing Tamil traditional bridal makeup is a sight to behold, with shimmery golden eyes, lips painted in peachy nude or warm reds, a little circular bindi, and a face sculpted and buffed to perfection.
A Tamil bride can effortlessly strike the perfect mix between dramatic and understated makeup by using natural, subtle cosmetics that complement the vivid bridal saris and zari borders.
Maharashtrian Traditional Bridal Makeup
Maharashtrian brides typically choose Nauvari saris in vibrant orange, green, and yellow hues for their wedding attire.
which heavily influences by tradition. Day weddings work best with a flushed face and gentle, romantic makeup to balance the riot of colors. Lips painted in soft pinks and nudes provide excellent options for letting the ensemble's colors also take center stage.
How To Make Bridal Makeup According To Face Shape?
The facial shape plays a significant role in deciding the traditional bridal makeup model. Therefore, you should consider your face shape to accurately fit your face and choose the traditional bridal makeup style that will work for you.
Oval face bridal makeup: All traditional bridal makeup looks flattering on oval faces. You can use natural bronzer treatments since your facial characteristics complement one another very well. With an illuminator, you can draw attention to your cheekbones, nose, and under your brows. Blush gives your face a lifted appearance.
Bridal makeup for round faces: Apply contours behind the cheekbones to give a round face a slightly more oval look while applying traditional bridal makeup. To make your face appear a little longer, you can also shade the corners of your chin and forehead. Applying blush correctly requires moving it from the cheekbones to the temples.
Square faces Bridal makeup: If your face is square-shaped.
you should shade the corners to highlight how narrow your chin and forehead are.
you can give the appearance that your face is longer by using a natural contouring cream on the corners of your chin and forehead.
Bridal makeup for triangular faces: A triangular look characterized by a broad forehead and a small chin. You might concentrate on applying contour to the forehead to balance out this appearance slightly. Also, the corners of your forehead and temples a shade to make your face appear more proportionate.
Conclusion
In all the above articles, we at vigorblog have discussed some important points related to Traditional Bridal Makeup. We hope that the content information will be helpful.
Helpful Resource
Maharashtrian Groom Look – Dress Ideas for Man
Traditional Marathi Bride's Wedding Look
Related posts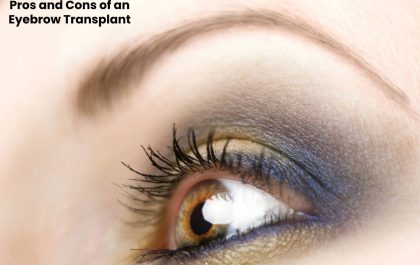 Pros and Cons of an Eyebrow Transplant – 2023
Pros and Cons of an Eyebrow Transplant – Eyebrow transplantation is a stable beauty method that removes excess hair from…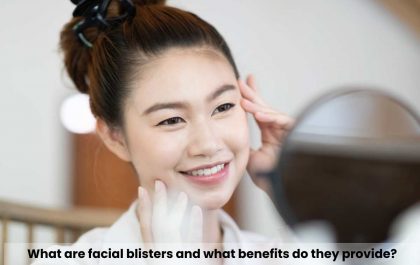 What are facial blisters and benefits? – 2023
Introduction What are facial blisters and what benefits do they provide? – Facial ampoules have become one of the most popular cosmetic…