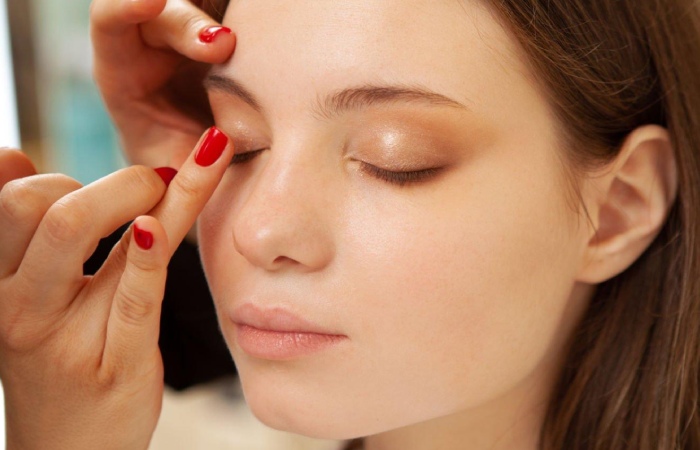 A liquid or cream-based substance called eyeshadow primer is used on the eyelids to help eyeshadow and eyeliner apply smoothly and remain longer. It is a double-sided tape that sticks to your lid and your eye makeup to keep your skillfully applied shadow in place. You may also use it to help brighten and enhance the colors in your makeup.
How Eyeshadow Primer Works
By absorbing extra oil and establishing a base for the eyelids, primer provides an even surface on which to apply makeup. Without primer, oily eyelids can also make eyeshadow look patchy and uneven, fade entirely in a couple of hours, or even get wrinkled over the day.
Like lips, eyelids frequently have a light natural pigment or tone, making it challenging for some shadow hues to stand out. Eyeshadow primers act as clear canvases that make all shadow hues shine out, especially those with neutral or white undertones.
How To Apply Eyeshadow Primer
Step 1: Cleanse
The eyelids are a delicate area, but that doesn't mean you should skip out on cleansing. This will sweep off any excess oils or old eye makeup, giving you a clean base. Soak a cotton pad with a gentle cleanser and gently wipe across your lids.
Step 2: Apply eyeshadow primer
Use your ring finger or a small eyeshadow brush to carefully blend an amount of eye makeup primer the size of a mustard seed onto each eyelid. Apply the product gently, careful not to pull or tug the delicate skin around the eyes.
Work the product from your lash line to just below your brows over the entire region where your eye makeup will place. Spread any eye makeup you are using down the bottom lash line here as well.
Step 3: Apply eyeshadow
Grab your favorite eyeshadow palette and apply it immediately over the primer once it blends evenly.
Step 4: Add eyeliner
Your eyes will look more defined if you line your lids. Along your top lash line, draw a thin line. You can also line the lower lashes.
Step 5: Finish with mascara
Your lashes will have greater volume due to mascara, which also highlights your eyes. To finish your look, carefully curl your eyelashes and use several coats of mascara.
Benefits Of Using Eyeshadow Primer
Grips Eyeshadow
It might not be easy to get eye shadow to stay on dry lids because there isn't enough moisture for it to do so. Eyeshadow primers provide a layer for the powder to stick to and serve as a grip to hold your eye shadows in place.
It Helps Eyeshadow Apply Smoothly
It can be challenging to blend out eyeshadow applied to bare lids, and it frequently looks patchy or uneven. Applying and blending eye makeup will be considerably more straightforward, thanks to an eyeshadow primer's ability to produce a smooth canvas for your shadows. Any makeup routine must include eyeshadow primer, especially if you want to create a more complex eye makeup look.
Enhances The Colour Of The Eyeshadow
Our different skin tones might cause eye shadow shades to appear differently on each person. So before applying your eye shadow, swipe a small amount of colored eyeshadow primer onto your lids to create a smooth base. As a result, your eyelids will appear more even in tone, and the makeup colors will look brighter and more lively.
Prevents Smudging And Creasing
Wearing eyeshadow all day, especially if you have naturally oily eyelids, can smudge and crease. Both powder and cream eyeshadow can avoid these problems by using a primer, which creates a barrier between the natural oils on your eyelids and the shadows. Thanks to this, you won't have to slip outside for touch-ups every few hours!
Locks Eyeliner In Place
Eyeliner can start to smudge and wipe off after just a few hours, much like eyeshadow can. Thankfully, eyeshadow primers work well with liquid or pencil eyeliner and shadows. So your cat eyes or flawless wings will stay longer if you use a primer on your lids to ensure that your liner wears consistently throughout the day.
Creates A Smooth Base For Even Eyeshadow Application
Powder shadows can be difficult to apply on dry or wrinkly skin because they are a naturally dry substance.
Problems with dry eyelids include uneven makeup application and the accentuation of fine wrinkles. Mainly when working with sparkly products, this may look aged.
Applying eye makeup will be a snap, thanks to an eye shadow primer's ability to produce a smooth canvas for your eye shadows.
What Eyeshadow Primer Works Best For Oily Skin?
Any eyeshadow primer can improve oily skin by mixing it with an oil-free base. However, most of the time, consumers prefer using an oil-free eyeshadow primer to maintain and set their makeup on oily skin. Better to do it.
The problem with oily skin is that it constantly releases moist oil. The entire makeup has a blurred appearance due to this oil. You should choose an oil-free eyeshadow primer for your skin type if you don't want your makeup to seem shiny and oily.
Can You Use Face Primer For Your Eyelids?
On your eyelids, avoid using facial primer. The two primers are created using different formulas and serve various functions. Typically, silicone is a component in face primer, which can cause the eyelid to crease. In addition, facial primers do not hydrate or absorb moisture, as well as eyeshadow primers. Thus they will not make your eye makeup last longer.
What Can I Use If I Don't Have Eyeshadow Primer?
If you don't have eyeshadow primer or just run out, there are quite a few alternatives that you can use. It did not recommend using a face primer. Instead, use a dot of concealer or some foundation. Aloe vera is another great idea!
Can You Use Eyeshadow Without Primer?
Yes, you can wear eyeshadow without primer. However, you will notice that your makeup fades away quickly without using a primer. You'll also be more prone to fall out and creasing.
Conclusion
Eyeshadow primer is a critical product. It is genuine and looks to extend the life of makeup. Therefore, it is best to use a suitable primer to maintain the appearance of your eyes for all time.
Helpful Resource
Halo Laser Treatment – Benefits, Risks, and More
Related posts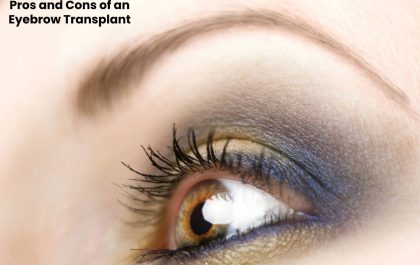 Pros and Cons of an Eyebrow Transplant – 2023
Pros and Cons of an Eyebrow Transplant – Eyebrow transplantation is a stable beauty method that removes excess hair from…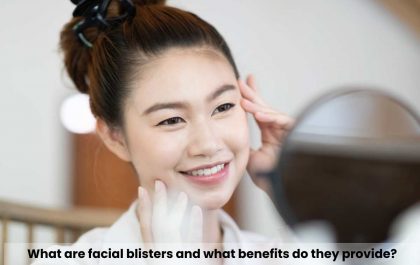 What are facial blisters and benefits? – 2023
Introduction What are facial blisters and what benefits do they provide? – Facial ampoules have become one of the most popular cosmetic…